History
Meredith started as an end-of-year party in 1991 for about two-hundred people on the Nolan farm near Meredith, Victoria. It was only cheekily called 'Meredith Music Festival' because there were some bands playing on the back of a truck. It was BYO and everyone stayed the night in tents, in cars, or sleeping outside. A few locals cooked a BBQ to feed everyone. Everyone had a blast so it was held again the next year and 500 people turned up. Four years later it was 5000.
This photo is the Amphitheatre on Sunday 11 December 1994.

THE MORE THINGS CHANGE THE MORE THEY STAY THE SAME
Meredith is still BYO, is still held on the Nolan farm, the original organisers are still involved (though one now just comes for fun) and it is still a celebration of music, nature and humans having a wild time in harmony with each other and their environment. And the locals still do the BBQ.
A thorough history of the Meredith Music Festival can be discovered at our aptly named History website.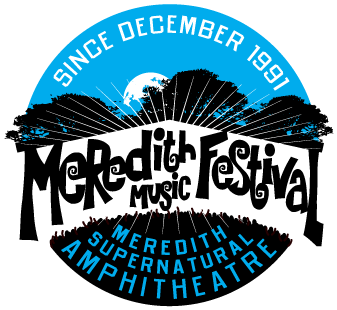 Here you will find a year-by-year firsthand account of What Went Down plus many, many photos from across the years. Poster artwork, documentary footage, Tell Us Something We Don't Know…
There is a comprehensive and fascinating Webxhibition celebrating Twenty Years of Meredith which features all sorts of Histories of Meredith. You can check out Aunty's SlideNight here:
As for how it all started, well…
Meredith is a small town halfway between Geelong and Ballarat, 90kms due west of Melbourne. A pretty, distinctly rural Victorian town, it goes about its business quietly below the foothills of the Brisbane Ranges. It was once a prosperous, bustling hub for the district, and the stop for the Cobb and Co coaches en route to Ballarat and the goldfields. But a century After The Gold Rush, it was a town like so many others in the country – in slow decline.
One sweltering December afternoon in 1989, local farmer Jack Nolan rode his tractor through disused farmland at the back of his family's property. This part of the land hadn't been seen by humans for years – its steep hills and thick vegetation had rendered it unsuitable for grazing. At the end of a typically long day on the land, Jack had decided to go a different way home.
The consistent drone of the diesel engine disturbed the pristine environment. Through the bracken, over the granite, the hazy heat of summer began to play tricks with Jack's mind. He became dizzy and lost his sense of direction, the foliage became thicker and his trusty tractor started behaving like a spooked Horse. He ploughed through the bush, branches flying as the tractor sped up. With a resounding thump that scared the animal life for miles the flighty Massey-Ferguson stopped. Suddenly a sense of The Other-World overwhelmed him. He became instantly and totally hyper-aware of his surroundings. He wiped the sweat from his eyes and was amazed and exhilarated by what he saw. The heat-haze had cleared, so had the thick bush. Jack was atop a plateau, staring wide-eyed at the most beautiful sight. He had stumbled upon a natural Amphitheatre of immense dimensions.
" Hmmmm", thought Jack. "Build a stage, whack a heap of bands on one weekend, provide free camping and cheap food and there could be a totally independent festival of great live music every year."
The MEREDITH MUSIC FESTIVAL was born…..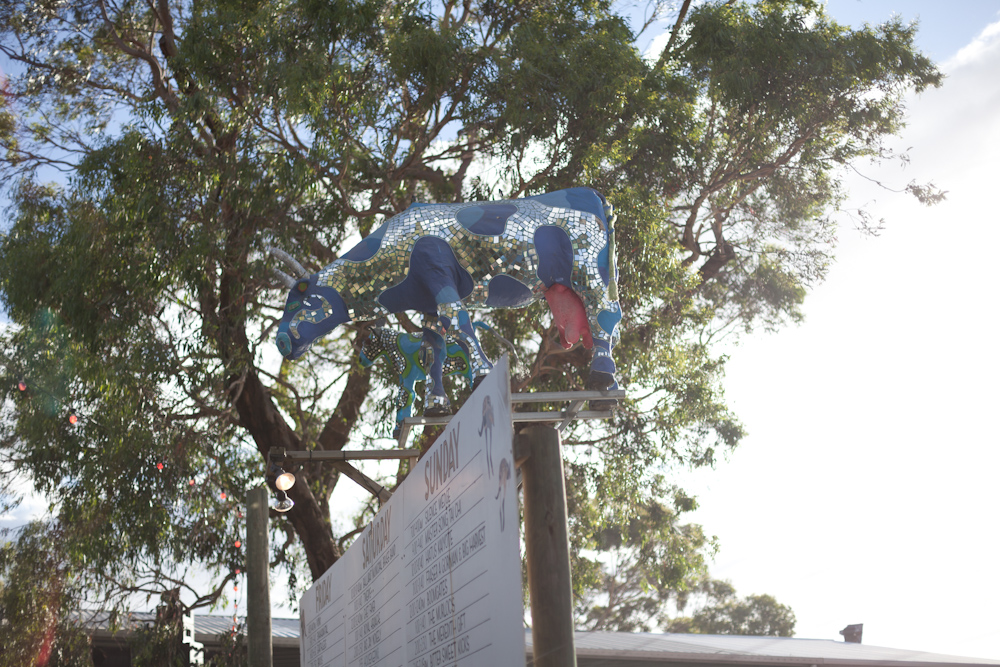 Previous Meredith Music Festival websites can be viewed here:
MMF2012
MMF2011
MMF2010
MMF2009
MMF2008
MMF2007
MMF2006
MMF2005
MMF2004
MMF2003
MMF2002
---