Meredith Town
Meredith the town is about 13kms from the festival site. It has two pubs, a cafe, a servo and a General Store amongst other things, like a nursery and a small real estate office. To get to the festival from town turn off the Midland Highway at the Royal Hotel (Staughton Street) and go past Morrow's Hotel till you get to the corner of Nolan Road. That's about it there.
On your way through, why not consider dropping into one of the following local Meredith businesses:
MEREDITH MASSAGE AND HEALING
48 Staughton Street
Mandy invites you to have a relaxing massage, or replenish your spirit with crystals, candles, jewelery and artwork.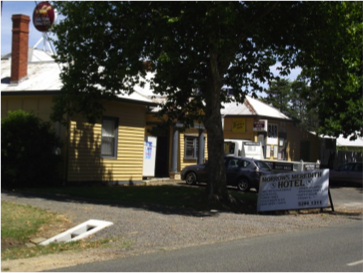 MORROW'S MEREDITH HOTEL (THE "TOP PUB")
51 Staughton Street
See Steve and Kathy for meals, cigarettes, ice, and of course the bottle shop!
SYNOT'S SWEETS
43 Staughton Street
See Rick and Dave for ice-cream, lollies, takeaway food, drinks and more for the sweet tooth.
COCO MONKEY CAFE
Cnr Staughton Street and Midland Highway
See Susie and Bill for coffee and tea, all-day breakfast, eat in and takeaway food.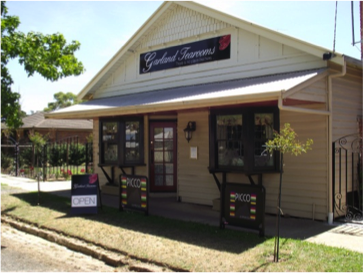 GARLAND TEAROOMS
Staughton Street
Deb and Gerry invite you into the new Garland tearooms in Staughton Street for high teas, Devonshire tea, and light luncheons.
MEREDITH CORNER STORE
Cnr Staughton Street and Midland Highway
The Meredith Corner Store offers takeaway food, groceries, cigarettes, magazines, and a post office to boot.
FOXY'S RESTAURANT & CAFE
Midland Highway
Foxy's Restaurant provides eat-in and takeaway food, including pizza and fish'n'chips, and coffee, ice-cream and more.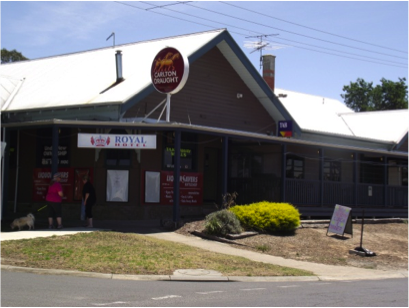 THE ROYAL HOTEL (THE "BOTTOM PUB")
Cnr Staughton Street and Midland Highway
Damien and Claire invite you to visit the re-modelled and re-named Royal Hotel. Here you can get meals, cigarettes, ice, alcohol, and put your bets on at the TAB.
MEREDITH ROADHOUSE
Midland Highway
A Festival institution, stop at the roadhouse for petrol, takeaway food, ice, and more.
During the Victorian bushfire season (November to April) it is important to follow this bushfire safety advice, to ensure that your visit to regional Victoria is safe and enjoyable.
---